Wednesday 24/2/2021
Media / Follow-up section
The distinguished scholar Habib Omar bin Hamid al-Jilani, the Shafi'i Mufti in Makkah Al-Mukarramah, visited this Wednesday the Faculty of Sharia and Law at Al-Ahgaff University, where he was received by the dean of the faculty, Dr. Abdullah Awad bin Sumait, Sheikh Muhammad Ali al-Khatib, professor of Shafi'i jurisprudence in it, and Professor Muhammad bin Abdul Qadir al-Aidarous, professor of Arabic grammar, and department heads and a number of teachers.
A session was held in the faculty dean's office, in which the dean welcomed Habib Omar al-Jilani, thanking him for this visit and welcoming him among his students, and gave him a brief overview of the faculty's departments and their specializations.
Habib Omar expressed his great happiness at visiting this scientific edifice, praising the efforts of those in charge of it, praying for their success and to continue benefit the people and the country.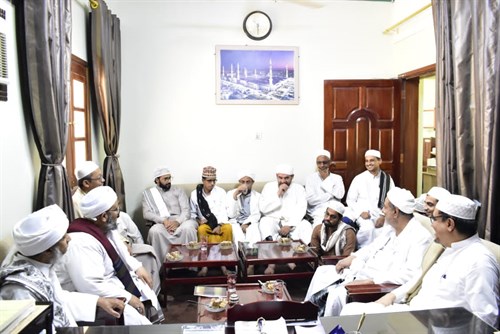 The Dean of the Faculty took Habib Omar in a short tour throughout the faculty to the professors' offices, and the registration department's office with an explanation of each department and its role in the administrative and educational aspects.
After that, a general session was held in the faculty's library in which Habib Omar al-Jilani met with all the teaching staff, including heads of departments and teachers, where he delivered a speech in which he expressed his pride to visit this edifice of the University of Al-Ahgaff, as it has become in the world a beacon of knowledge whose graduates are distinguished by mastery and command and evocation of science issues, as Al-Habib touched that In the places he visited and his meeting with the university graduates.
In his speech, Al-Habib emphasized the attention that should be paid to the jurisprudence of the Shafi'i school of thought and its achievement, which is what this faculty is distinguished with, stressing the importance of the students being investigative and hard-working in their studies.
Habib Omar also expressed his happiness with the opening of the Department of Hadith and its Sciences at the faculty, stressing that this would show the close connection between the Shafi'i doctrine and the sciences of hadith and its derivation from it.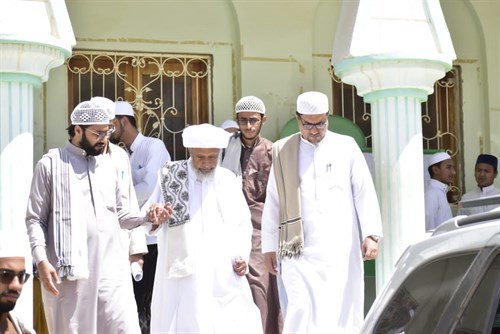 Interventions were made and questions from teachers and sheikhs revolved around the Shafi'i school of thought and various sciences.
At the end of the meeting, the Dean of the Faculty Dr. Abdullah Awad bin Sumait thanked Al Habib Omar Al-Jilani for this visit, calling for him to repeat it and hold sessions with students on upcoming visits.
At the end of his visit, Habib Omar bin Hamid al-Jilani was briefed on the project of the Faculty of Sharia and Law mosque, which is funded by the El-Wedad Foundation, and took a tour around the construction area, and was briefed by Engineer Hussein al-Saqqaf about the total capacity of the mosque, which amounts to 1700 praying people.